Kyocera-Tikitin, born in Otaniemi, Espoo around groundbreaking research by silicon-based MEMS resonators, plans to grow from Finland to the world market.
Kyocera-Tikitin, born in Otaniemi, Espoo around groundbreaking research by silicon-based MEMS resonators, plans to grow from Finland to the world market.
The technology that is based on the company's research and development is likely to benefit anyone possessing any kind of electronic device. The company is at the international forefront in the development of MEMS resonators (microelectromechanical components that vibrate at certain frequencies). Microscopic silicon resonators replace quartz crystals and help make smart devices even smarter, smaller, and more durable.
The research began in Otaniemi more than 20 years ago, and it culminated in 2016 when the technology was commercialized. This, in turn, ignited the start-up company Tikitin. Finnish innovation quickly aroused interest around the world, and Kyocera, a Japanese conglomerate, acquired the company three years later.
Quality management steered by an experienced professional
Markku Nieminen is a familiar name for many of those who have participated in Excellence Finland's activities and trainings. Nieminen started as the quality manager of Kyocera-Tikitin in October 2019. Nieminen has gained extensive experience in quality management and he is active in the industry's networks as well. He is responsible for the company's quality management practices from product development to manufacturing and distribution.
– Innovation and research are still at the heart of Kyocera-Tikitin, but the transition to industrial mass production requires the development of quality management and a more systematic approach, Nieminen describes.
A philosophy of life in blue covers
The quality manager is supported by MEMS process manager Shiro Miyazaki, who is on a three-year work deployment to Finland. He has brought along not only tools and methods from the group, but a thorough Japanese philosophy of life.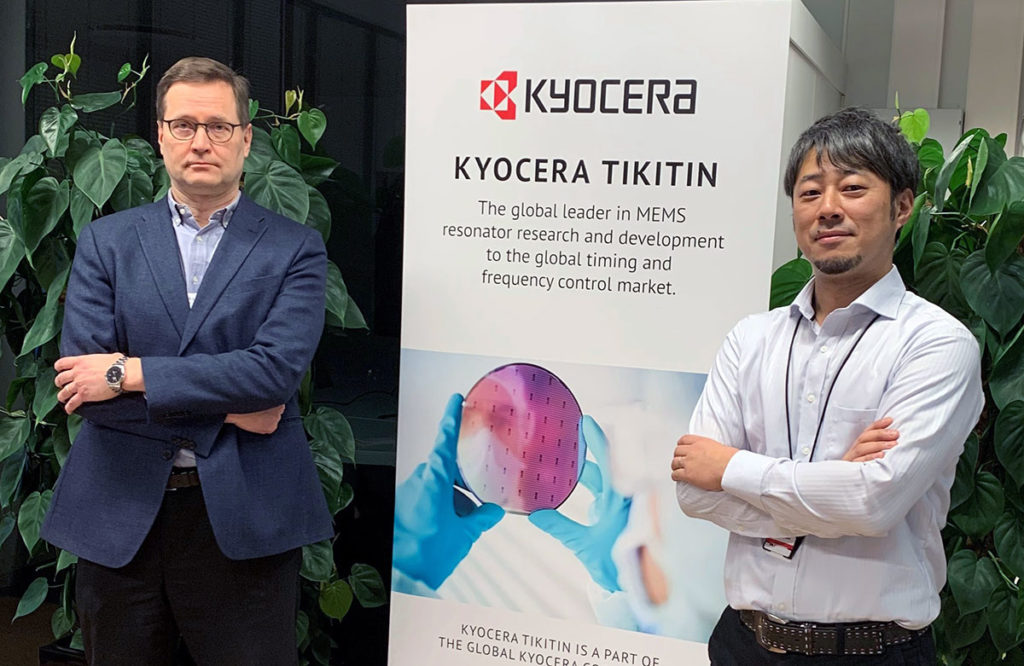 – Our company's thinking and operating models are compiled into a book that is recommended reading for every new employee. Instead of listing processes, the book presents a holistic philosophy of life between its blue covers. It gives guidelines for every employee's daily work, Miyazaki says.
The philosophy is based on the thoughts of Kazuo Inamori, the founder and the current Kyocera honorary chairman. In the book, Miyazaki himself is particularly inspired by the principles of "Shop Floor Management" and "Grasp Matters Simply".
– The basis of manufacturing is the shop floor. When a problem occurs, we must at once return to the roots of the problem. No matter how we theorize or rationalize away from the shop, we'll never solve the problem anywhere else. This is relevant in all operations – not just production or sales, Miyazaki describes.
– In addition, it is critical to maintain a mindset that helps turn complex things simple. The more we simplify a matter or phenomenon, the closer we get to its original nature, its essence or truth. For example, management may also often seem complex. Yet, it can be boiled down to a simple basic principle: maximize revenues and minimize expenses, he continues.
A free-moving amoeba instead of strict standards
To Nieminen, it has been an interesting learning experience to see how Kyocera implements the philosophy to the work of every employee. When the guiding star shines bright, no detailed operating instructions are required.
– Typically, when talking about Japanese quality management, the first example that comes into mind is Toyota, where every single step is carefully systematized and standardized. Kyocera does things differently. The emphasis is enabling employees to become responsible and independent professionals who find the best way to do their job. And this leads to very good results in terms of both quality and profit, he praises.
This management system has a name, Amoeba Management, and it was also developed by Inamori. Accordingly, the organization is divided into small units called "amoebas." Each amoeba leader is responsible for drafting plans and goals for the unit. Amoebas achieve their goals through collaboration and shared efforts. In this system, every employee plays a major role and voluntarily participates in managing the unit, achieving what is known as "Management by All."
– The amoebas operating in Finland receive the resources and necessary authorizations from Kyocera, and then we are responsible for the management and results of our own operations, Nieminen describes.
Doctrine works both ways
Miyazaki praises Finnish R&D knowledge. After his first year in Finland, he also appreciates the people's kindness as well as clean nature and safety. And there is one thing he would like to take along to Japan:
– I admire the Finns' ability to separate work from leisure time. In Japan, we are going to this direction, too, but we are not that far yet", he wonders.
Did you know this?
Kyocera is a combination of words Kyoto and Ceramics. The company started in Kazuo Inamori's garage in the 1950s. The company is still famous for its high-quality ceramic knives, but the excellence in ceramics has expanded to a variety of operations from microelectronics to solar panels. Kyocera is one of the world's TOP5 companies among suppliers of quartz crystals. The group's revenue is USD 12 billion and it employs 75,000 people worldwide.